Purchasing Managers Index (PMI)
Every month, hundreds of economic indicators are released by various government agencies and industry organizations.  On the very first business day of each month at 10 AM EST, the Purchasing Managers Index or PMI is released by the Institute for Supply Management (ISM).  It is the official "kickoff" to the month's economic calendar.  Wall Street analysts pay close attention to this indicator, because it can jolt the markets in a big way.  
The ISM is a non-profit group boasting more than 40,000 members engaged in the supply management and purchasing professions.  Because members are employed at all levels of the supply chain, they may have unique and early insight to a change in trends.   It is for this reason that the PMI is considered to be a leading economic indicator. 
The PMI is a composite index based on the diffusion indexes for the following five indicators at equal weights:
-New Orders (seasonally adjusted) 20%
-Production (seasonally adjusted) 20%
-Employment (seasonally adjusted) 20%
-Supplier Deliveries (seasonally adjusted) 20%
-Inventories 20%
The interpretation of the PMI is very straight forward.  A PMI index over 50 represents growth or expansion within the manufacturing sector of the economy compared with the prior month.  A reading under 50 represents contraction, and a reading at 50 indicates an equal balance between manufacturers reporting advances and declines in their business.
For the month of April, the PMI came in at 56.8%, indicating a domestic economy that continues to grow.   If you would like to track the PMI or learn more about this important leading economic indicator, I encourage you to visit the ISM website at:   www.instituteforsupplymanagement.org.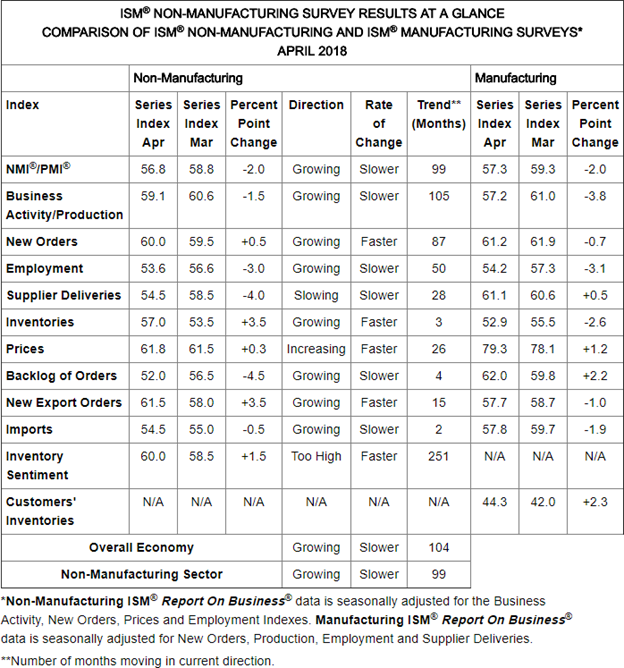 Please note, the information contained in this segment is for educational purposes only and does not represent a solicitation or recommendation to buy any security that is mentioned.   
Thomas A. McDevitt, CFA, CFP, EA
215-990-0781
tom@phillyfinancialplanning.com