Doubleline Capital founder and CEO, Jeff Gundlach, (aka, the "Bond King") made some interesting comments at the 2018 Mauldin Economics Strategic Investment Conference this month, and a lot of investors took notice.
Specifically, he said that "something big" was about to happen in the gold market.  After building a huge base for the better part of five years, he continued, gold appeared to be ready to "break out" of the $1,360 – 1,400 area (this price level has proven to be prior resistance;  see chart above).  If gold indeed moved above the $1,360 – $1,400 area in the weeks or months ahead, he further commented, gold could see an explosive $1,000 point rally. 
During his presentation, Gundlach went on to show a chart that was simple and compact, but incredibly powerful.   The chart itself comes from Incrementum out of Liechtenstein, and it is our Chart of the Month.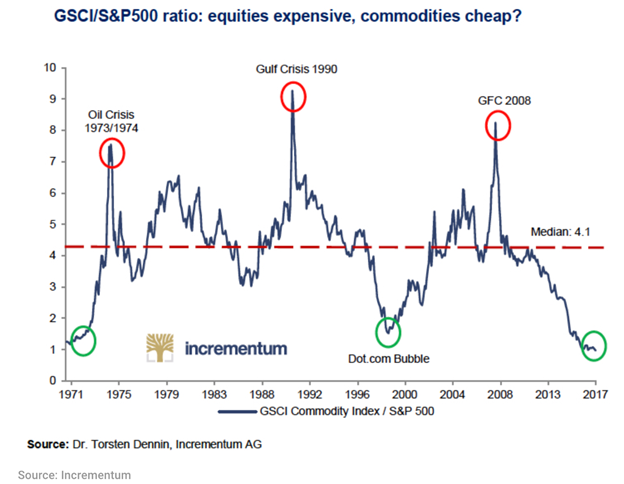 Please note at the outset that "GSCI" stands for the Goldman Sachs Commodity Index.   The index itself is designed to be investable by including the most liquid commodity futures.  It currently comprises over 20 commodities from many commodity sectors – energy, industrial metals, agricultural products, livestock, and precious metals.   The S & P 500, of course, is a common benchmark for U.S. equities.   
Taking the ratio of the GSCI to the S & P 500 reveals a compelling investment story, at least as far back as 1971.  Specifically, commodity prices in relation to stock prices go through periods of boom and bust.  Periods of commodity price peaks include the Oil Crisis, the Gulf Crisis, and the Great Financial Crisis (GFC).   On the other hand, periods when commodities hit a trough (in relation to equities) include 1972, the period just before the Dot.com Bubble, and perhaps, presently. 
This month, successful hedge fund manager, Jeff Gundlach, gave the green light to make aggressive bets on the commodity sector, with gold being his primary investment vehicle.  Investors who do not buy into his investment thesis should still consider the GSCI as a prudent addition to their portfolios.  Historically, the correlation between the GSCI and the S & P 500 has been very low, making the GSCI a great portfolio diversifier for investors who are over-weighted in North American securities.   
Please note, the information contained in this segment is for educational purposes only and does not represent a solicitation or recommendation to buy any security that is mentioned.   
Thomas A. McDevitt, CFA, CFP, EA
215-990-0781
tom@phillyfinancialplanning.com